*Received a free copy in exchange for an honest review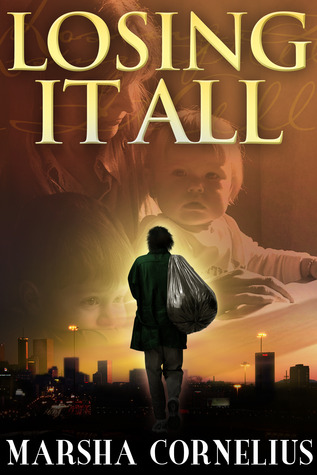 Blurb~
Frank Barnes is content living on the streets of Atlanta. A soup kitchen and a makeshift shanty sure beat his days as a POW in Vietnam. But Chloe Roberts can't handle the eviction that sends her into the hell of homelessness. With no family or friends to turn to, Chloe and her children are sucked into the traumatic world of night shelters, and dangerous predators.
When they bump into each other at the soup kitchen, Frank offers Chloe a glimmer of hope that she can pull her life back together. She rekindles his lost sense of self-worth by taking his mind off his own problems. But they will not meet again until Frank is riding high as a working man, and Chloe has hit rock bottom.
By helping Chloe rebuild her broken life, Frank banishes the demons from his own past. Unfortunately, the past comes strolling back into their lives, threatening to destroy the happiness they have finally found.
My Review~
I am just going to jump into this review. Losing It All was a hard story to read. And not for the reasons you think. No it is not a bad story. It is a hard story. It is a challenging story. One that a lot of authors don't tell. Losing It All isn't your typical story of life, love, and hope. Oh no, Marsha Cornelius gives us a story that is so deep in loss and despair that often times you wonder if you are ever going to find that little ray of sunshine. That one tiny glimmer of hope amongst the darkness.
In Losing It All we follow the paths of two people. Frank, the homeless veteran who is perfectly content with life on the streets. Who battles demons both physical and mental. And Chloe, the mother of two who has everything ripped from her in a single night. Each set of characters starts in a different place. Frank is already in despair, but yet he chooses to be happy with his life. He chooses to make it the best he can. He has friends, he has worth, and he has purpose.
Chloe starts with hope. With happiness and in one single moment everything is torn apart. She loses everything and is thrown into the world of being a single mom and homeless. She is scared, hopeless, and desperate. But Chloe is a fighter and is determined to get herself out of her bad situation. She chooses to see hope for a brighter future.
Both characters think that things are as bad as they are going to get. But as Marsha Cornelius shows us, sometimes life deals us a hand full of spades and bleeding hearts. Both Frank and Chloe learn that there is always more to lose. The question is how far down can you go before you break? Before there is no hope of putting you back together.
Losing It All is that story. It is the story of how bad things can get. Of how far down a person can go before the sun begins to shine again.
Both of them are dealt crappy hands. Throughout Losing It All there are moments of happiness, hope and love. Of course, Marsha Cornelius is quick to slap that hope off the page. I'm not saying there isn't hope. Because there is. Underneath all the bleak darkness that these two stories lie in there is hope. But they have to fight to get it. They have to battle demons that break most people down to nothing.
Losing It All is just that. A story about losing it all. That's life. Not everyone is going to get a happy ever after. Not everyone gets roses and sunshine. Some peoples roads are paved with sadness, tears, and bitterness. And Marsha Cornelius does a splendid job of giving us the darker side of life. Losing It All is a beautifully sad story. One that is hard to read because of the truths that lie within its pages. This story is not for that faint at heart, but definitely a story of life and how no matter how bad things get things can get worse and if you let them things can get better.